by Minta Motion
Placed in News
Tagged with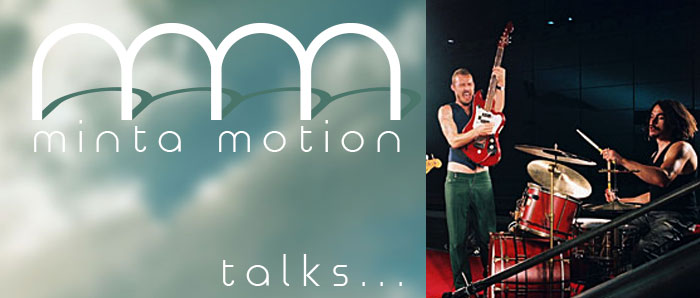 17 MARCH, 2007
I got the link to this competition from my brother, who also entered a video which became a finalist.  The deadline for entries was the next day, so I becan editing at 4pm, and finished around 4am.  gotta love those all-nighters!  After winning my brother and I were flown to Sydney and met the band before their album launch.  Admittedly it was all a daze for me: I already get nervous meeting people in regular circumstances, so this was EXTREME MEETING!!!  Naturally I was on giggle overload and I'm sure they suspected I had some sort of mental condition.  And can I just say one thing: Daniel Johns is one fine specimen.

Below is some information from various news articles, and some photos of the framed award I received.
Run by the band's recording label EMI, the competition took place online.  Fans were asked to re-edit the original footage from the video clip for the band's new single, 'Straight Lines', which was released in Australia on 10 March.
There were 78 entries in total, which were collectively watched more than 1.8 million times.
'By the end of the competition, my video had over 210,000 views, which put me into the top five finalists,' says Tani.
Entries closed on 2 March and the winner was announced on 14 March.
All three Silverchair band members – Ben Gillies, Chris Joannou and Daniel Johns – watched the top five clips and chose Budini as the winner.
Budini's prize includes a signed gold album plaque, which will be presented backstage at a Silverchair gig in May, and a copy of the band's new CD Young Modern. While the band is playing at the Tivoli in Brisbane on 27 April, Tani hoped she would be flown to one of Silverchair's five interstate gigs.
As it turned out, she and her brother Shane (also a finalist with his separate entry) were flown to the Silverchair Album launch on the 31 March at Carriageworks in Newtown (Sydney), where they met the band.
For more information, visit HERE
The video can be seen HERE